Economy, trade dominate agenda at U.S.-Africa summit
By Askia Muhammad -Senior Editor- | Last updated: Aug 13, 2014 – 3:59:01 PM
http://www.finalcall.com/artman/publish/National_News_2/article_101681.shtml
WASHINGTON (FinalCall.com) – President Barack Obama ignored the threat of impeachment by a rabid, right-wing dominated Congress; took his mind off the rapid deterioration of the U.S. supported government in Iraq, and international condemnation of U.S. ally Israel's genocidal treatment of Palestinians in Gaza; and he convened the largest gathering of African heads of state and governments ever assembled by a U.S. President Aug. 6—this, even as fears that history's worst outbreak of deadly Ebola, in Liberia, Sierra Leone, Guinea and Nigeria might straddle the Atlantic Ocean and spread to this country.
Mr. Obama was upbeat and he personally participated in a number of sessions over two days. With the help of former President George W. Bush and First Lady Michelle Obama, the President welcomed representatives of 54 African governments to the U.S.-Africa Leaders Summit whose theme was "Investing in the Next Generation."
"We come together this week because, even as the continent faces significant challenges, I believe a new Africa is emerging," Mr. Obama told the opening session. "With some of the world's fastest-growing economies, a growing middle class, and the youngest and fastest-growing population on Earth, Africa will help shape the world as never before.
"Moreover, Africa's progress is being led by Africans, including leaders represented here today," Mr. Obama continued. "More governments are embracing economic reforms, attracting record levels of investment. Gains in development, increasing agricultural production, declining rates in infectious diseases are being driven by African plans.
"African security forces and African peace keepers are risking their lives to meet regional threats. A new generation of young Africans is making its voice heard," the president said, offering as much as $14 billion in U.S. aid as an investment, for starters.
This conference is evidence of a new 21st Century African reality. When Western Imperial powers met in Berlin 130 years ago to carve up Africa among Europe's monarchies—Britain, Spain, Portugal, Belgium, Germany, Denmark, France—none of the modern players in African development were present.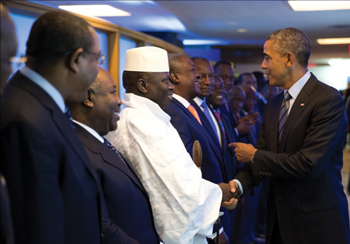 President Barack Obama greets Africa leaders prior to a group photo during the U.S.-Africa Leaders Summit at the U.S. Department of State in Washington, D.C., Aug. 6. Photo credit: (Official White House Photo by Pete Souza)
Of the African countries, only Egypt and Morocco were independent then, and no Africans were represented in Berlin, but neither was the United States, nor was today's leader in African investment—China. Today, the U.S. with the vast resource of its huge African population of former enslaved persons has inherited the mantle of the Western imperial powers, and China, the world's second largest economy today is a major player.
"My major takeaway (from the U.S.-Africa Leaders Summit)," Dr. Gerald Horne, who holds the John J. and Rebecca Moores Chair of History and African American studies at the University of Houston, told the "On The Ground" show on WPFW-FM in Washington, "is surprisingly enough not inconsistent with that of the mainstream media, insofar as I think the United States is trying to play catch-up with regards to China.
"That is to say, China has made significant inroads in Africa with regards to trade and investment. The United States and its European allies feel that it's falling behind. Now, it's very curious, if not laughable, that the United States, which benefited from the free labor of enslaved Africans for centuries, and the European allies who colonized Africa and looted it and plundered it of its natural resources, are now in the curious position of seeking to 'warn Africa' about the 'Big Bad Wolf' that is China. This is not only pitiful, it is laughable," Dr. Horne continued.
Leading up to the Summit, President Obama hosted his Young African Leaders Initiative (YALI), a Town Hall meeting with the 500 leaders selected as the inaugural class for the Mandela Washington Fellowship.
First Lady Michelle Obama also addressed the group on Aug. 6, delivering remarks on her own heritage, and the importance of promoting education and empowering women in Africa. "No country can ever truly flourish," she said, "if it stifles the potential of its women, and deprives itself of the contributions of half of its citizens."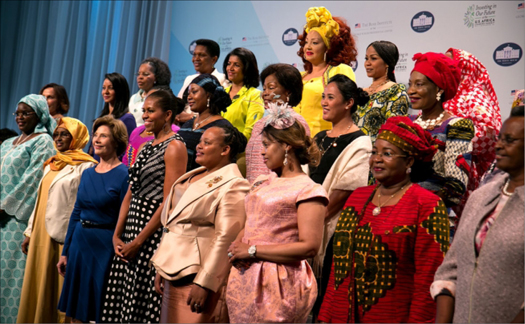 First Lady Michelle Obama and former First Lady Laura Bush pose for a group photo with Africa leader spouses prior to a symposium on advancement for women and girls in Africa at the John F. Kennedy Center for the Performing Arts in Washington, D.C., Aug 6. Photo: Offi cial White House Photo by Amanda Lucidon
Ironically, the African country where girls and women have been put at greatest risk—Nigeria, where Boko Haram militants have murdered hundreds of villagers and churchgoers in Northern Nigeria, and kidnapped more than 200 schoolgirls who continue to be held for more than two months, now—Nigeria was front and center at this conference. Nigerian President Goodluck Jonathan held a private, bi-lateral meeting with U.S. Vice President Joseph Biden, and was feted at receptions and in meetings with Congressional leaders. Meanwhile, conspicuously absent was Zimbabwe's President Robert Mugabe.
The decision to not invite Zimbabwe, however, amounted to a "badge of honor," a Zimbabwe supporter said privately to The Final Call. Other critics observed the "hypocrisy" that some governments the U.S. does not like were not invited while a virtual "rogue's gallery of dictators and tyrants" who lead crony U.S. allies were in attendance.
"Keep in mind that President Robert Mugabe of Zimbabwe was not invited to this summit, supposedly because of human rights violations," Dr. Horne pointed out, "but they never call into question why the leaders of Equatorial Guinea, Cameroon, and other nations too numerous to mention were present. He was not invited, precisely because his party expropriated the land of the European minority, and therefore incurred the wrath of several sets of colonialists here in North America."
Others agreed. One U.S. official asked privately that the crisis in Nigeria not be the focus of critical attention right now, while U.S. authorities attempt to work behind the scenes with President Jonathan to resolve some of the human rights complaints there.
"They are trying to hold up a good front," Abdul Akbar Muhammad, International Representative of the Honorable Louis Farrakhan told The Final Call. "The Central African Republic, the crisis of Ebola in West Africa, all of these crises on the African continent deserve attention, outside of just economic relationships and how we can partner. The humanitarian crisis, I think that should be the first on the agenda.
"The African leadership today needs to show that with nearly 1 billion people on the African continent, and Africa being the plum—the desire of China, of India, of Malaysia, and now even Russia and Brazil—that they need to show that there's other social issues in Africa," Mr. Muhammad continued.
"The lesson we learned from history with the Mau Maus. If you go back to 1956, the world condemned the British for collective punishment in Kenya, before Kenya became independent. And this is what's going on in Gaza. It's a shame in the eyes of the world. So that should have been one of the agenda items for these African leaders here. I don't feel that it should be purely economic, but it needs to be balanced out with the humanitarian crisis that is taking place in Africa and throughout the world," he continued.
"They need to take a page from Nelson Mandela. America's perceived enemies—Zimbabwe, Eritrea, Sudan, the countries that were disinvited—the African leadership should have said, 'Look. We come, but we're a team. We belong to the African Union.' Nelson Mandela said clearly, that 'Your enemies are not necessarily my enemies. And because they're your enemies, should I make them my enemies, in order to get along with you?' The African leaders should be strong enough to say that," Mr. Muhammad said.
"Leaders come in many shapes (and) forms," veteran Congressional Black Caucus member Sheila Jackson-Lee (D-Texas) told The Final Call when asked about the apparent exclusion of governments the U.S. doesn't like, while coddling others with shameful human rights records. "I don't disrespect heads of state. They are my guest. I welcome them. I don't make judgments as they are a guest in the country.
"But I infuse information, and I am informed enough to know that when we go to the Continent, we meet with a variety of people, and I would almost say—that in the words of Madiba (South African President Mandela), who grew from his revolutionary stance, he came to understand the burdens of being head of state as well as other requirements of leadership. And he embraced individuals that this nation did not. He walked his own pathway," Rep. Jackson-Lee continued.
"But it is up to the leaders, as they lead their countries to make the definitive decisions which are for all of the people. I hope that as they are my guest, the President's guest, here in the United States, they will also absorb some of the skills, information, inspiration that continues to carry them forward as leaders.
"That's what this is all about. It is a mosaic of which we will continue to be connected to, and I'm learning some lessons. I'm here learning as well," she concluded.
Related news:
Africa Must Rise and Be Free (Minister Louis Farrakhan)
Amercia's Shadow wars in Africa (USinAfrica.com)
U.S. Gov't Destabilizing Africa through AFRICOM (FCN, 10-11-2013)
'Well-behaved' African leaders rewarded by President Obama (FCN, 05-10-2013)
Zimbabwe's president: West seeks to plunder Africa (FCN, 05-17-2013)
Wikileaks reveals unflattering U.S. view of African 'client states,' leaders (FCN, 12-09-2010)
Obama in Africa (FCN, 07-16-2009)
The exploitation of Africa's land and people (FCN, 02-24-2009)